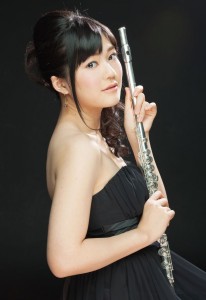 Once I received the Eloy flute, I have been very enjoying everyday, every moments with her(Mokumeum 14K WhiteGold).
Even she is a little heavier than my usual flute, I have forgotten the
weight and have concentrated playing her. I have never felt such joyfulness with just playing flute since I was 6 years old when I started playing flute. I sometimes feel that I am enjoying for the ensemble or I like this music though, it is the very first time that I obsessed playing flute.
Around my friends at music academy, she got very popular and everybody liked
her sounds. It was admitted the great sound among my friends, even most of them said that Eloy flutes was a little big and heavy because most of them are small and thin girls.
I have never forgot the moment I played her in the concert
hall for the first time. I was surprised.
In the rehearsal, I played Eloy flute without piano.
There were some friends in the hall though, I could feel like "my
flute sound is blowing the hall!!" which is the first experience for me.
My younger friend shouted to me with her excitement "It is brilliant
sounds rather than your normal Muramatsu flute!! The sound is sparking ever!".
In front of the audience, I have experienced that I could blow not
only the hall but also the piano! I have ever felt for 13-years my flute experience.
I really impressed by the sound on the stage I played, therefore I suddenly
made a mistake and misleading my fingers on the flute once which is my regrettable point…..
I was really missing to finish music at the end.
Honoka Maki