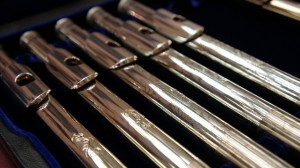 We have Dutch full handmade flute "Eloy Flutes" in stock.
Mokumeum 14K palladium whitegold B-foot, Mokumeum 14K Redgold B-foot and 925 silver B-foot.
In addition that we have a headjoint for each flute.
Eloy flutes are dutch top-notch full handmade flutes. Eloy Flutes can be produced maximum 12 flutes par year. It use old traditional Japanese special technique "Mokume gane".
Between 16/01/2012 and 29/01. We have a Eloy Flutes sale at Sankyo gakki in Sapporo Hokkaido. Please feel free to come to see.